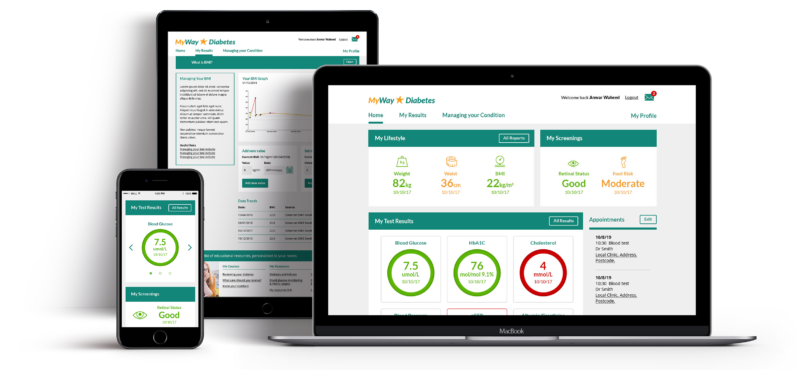 MyWay Diabetes: Healthcare Professional Section
Welcome to the healthcare professional resource page for MyWay Diabetes (known as Diabetes My Way in Greater Manchester). On this page you will find information on what the platform offers, and links to your local resources page. This will help support you in promoting the service to your patients.
What is MyWay Diabetes?
The MyWay Diabetes platform provides:
A regional website with hundreds of open access resources, including multi-language content
10 QISMET-accredited eLearning courses for type 1, type 2, diabetes prevention and gestational diabetes (see leaflet here)
Patient access to their diabetes-related health records along with tailored advice
Who can access MyWay Diabetes?
MyWay Diabetes operates to the NHS philosophies of equality of access and services being free at the point of care – therefore all people with diabetes in the region where the service has been commissioned can access all of the resources free of charge, there is no limit to the number of times they revisit, and we encourage the use of information and education resources by friends and family.
What are the benefits?
Users benefit from having 'information in their pocket'. With over 200 quick access resources available, plus a full suite of structured eLearning courses (QoF and NDA friendly), they can learn where and when suits them best. Using NHS data to populate easy to understand dashboards and tailored content.
Evidence shows users make better use of consultations, feel more confident in self-management and show improvements in key metabolic measures. More information on the product evidence base can be found here. The video below highlights the features of MyWay Diabetes:
Registration Process for Patient Access
Users:
Users are encouraged to register and authenticate for our service using
NHS login
.
GP Practices:
GP practices need to enable records access from EMIS or Vision to the MyWay Diabetes platform. This is quick and simple, and only needs to be done once. Please visit the Healthcare Professionals section of your regional website for further details.
If you have any questions or need any further assistance, please email us at support@mwdh.co.uk.
Find out more: Weekly drop-in sessions for MyWay Diabetes
The MyWay Digital Health team run periodic weekly drop-in sessions so you can find out more about MyWay Diabetes, how patients can access it and get answers to any questions you have. These will be advertised here, or email us at support@mwdh.co.uk for future dates.
If you would like us to post out regionally branded flyers, business cards, or need help with direct to patient marketing /communications, then get in touch: support@mwdh.co.uk