MyWay Digital Health
Delivering transformative diabetes care globally through affordable population-based solutions. Providing data-driven knowledge and advice to patients, and health care professionals.
Improving care, saving lives and saving money.
MyWay Digital Health:
Supports practitioners, healthcare organisations and payors through intelligent, integrated patient management/ analytical IT systems for diabetes and other chronic conditions
Helps patients manage their own condition through innovative user-centric digital health solutions
Products
We deliver innovative:
Clinician facing eHR/ decision support systems
Data-driven patient self-management and education solutions
Population analytics and risk prediction platforms
The Award winning MyDiabetesMyWay (MDMW) patient platform has provided education support to over 500,000 people with over 60,000  full data access registrants. MDMW has national coverage in NHS Scotland, has demonstrating a 5:1 ROI, and has been widely implement in other UK regions under regional branding, e.g. Manchester Diabetes My Way, Know Diabetes (North West London), Somerset My Diabetes, Cheshire and Merseyside, Lancashire and South Cumbria. MWDH also run the national NHS England mytype1.diabetes.nhs.uk platform, and are rolling out solutions in the Middle East,  USA and India.
MyDiabetesMyWay, MyWayClinical and MyWayIQ all carry the CE mark.     

Benefits
Improvements in guideline compliance, system efficiency, data transparency, patient knowledge, motivation, remote care delivery, health outcomes
Reductions in complications and cost of healthcare delivery
Background
MWDH team have several decades of experience in:
Clinical care
Informatics- including national systems development
Data integration
Digital health service delivery
Education delivery
Research
Goal
Our goal is to transform diabetes care globally through low cost population-based solutions that deliver data-driven knowledge and advice to patients and health care professionals thereby improving care, saving lives and saving money.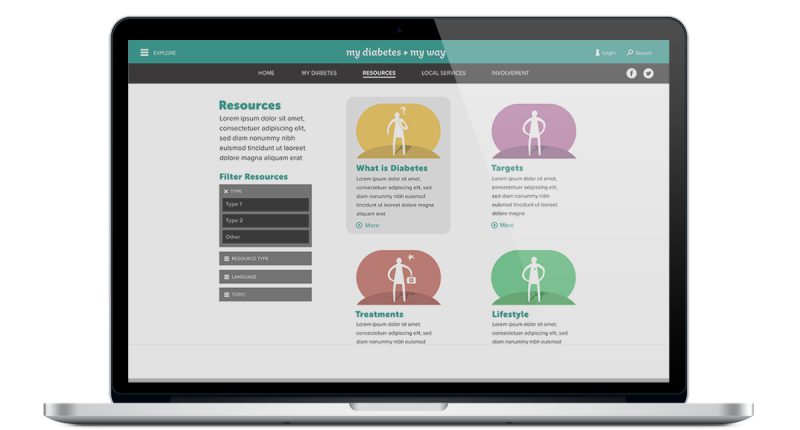 Electronic health record access
Patient self-management decision support with data-driven tailored advice
Personalised care planning documents
Personalised care quality reporting
Patient goal-setting tools
Communication tools using secure messaging and peer discussion groups
Remote glucose monitoring data linkage
External social media channels
Responsive and accessible web/mobile platform design
MyWay Digital Health is multi-award winning and is being supported by a number of organisations.