MyWay Digital Health
Background, operating processes, standards and evidence  
MYWAY DIGITAL HEALTH (MWDH)
BACKGROUND, OPERATING PROCESSES, STANDARDS AND EVIDENCE  
My Diabetes My Way (patient platform), has been designed to be easy to use. Here, we discuss features and why you, as a user, can trust the content and approach taken. If you are a health care professional, this information will help you to understand how we support those in your care. Short evidence summaries of key studies are provided, along with a full list of references.
Before you read on, you may like to watch the following video showing what patients and clinical experts who have experience with the system in Somerset have said about how they all benefit.
HOW EASY IS IT TO USE THE SYSTEM?
The system should be usable without any prior training, but we do have a user tutorial video to help if needed. We have a range of educational resources available including leaflets, short videos, PDF documents and infographics (which you can download for future reference) and structured learning which is designed to guide you through key elements associated with diabetes. The system also enables health data access. Data are displayed in an easy to understand colour coded dashboard format; we believe data access is pivotal to users being able to understand key care measures.
WHAT IF MY SIGHT OR HEARING ARE IMPAIRED?
We have adopted good practice for making our site as easy to use and accessible as possible (if you want to know more, we comply with WCAG 2.0 and level AA).  This means that all images have alternative text, there are subtitles for our videos and adaptations for screen readers. You can read below about how we continually review our system components and the external accreditation which it is subjected to.
WHY YOU CAN TRUST MYWAY DIGITAL HEALTH
The company was set up by co-founders Dr Debbie Wake (a consultant diabetologist and expert on use of data to support patients) and Dr Scott Cunningham (an academic and expert on interoperability and safe handling of NHS patient data at scale). It was founded in direct response to requests across the UK to have a similar diabetes platform to the one Debbie and Scott have managed in Scotland for the last decade.
The company is registered with the Information Commissioners Office (the ICO) and we operate to their standards and guidance. 
There are several important aspects to this, which are covered in detail below, through a series of frequently asked questions: 
How are my data kept safe and do I have control over my online use of the MWDH platform?
Is the content overseen by clinical and educational experts?
Is the platform content good quality, in line with current NHS recommendations and kept up to date?
Are any possible risks to users identified and managed appropriately?
What is the evidence base?
1. HOW ARE MY DATA KEPT SAFE AND DO I HAVE CONTROL OVER MY ONLINE USE OF THE MWDH PLATFORM?
It all starts with people and recruitment. A number of MWDH employees are also NHS staff, with expertise in diabetes and patient-data handling. As well as the usual HR checking processes, each staff member undergoes vetting through Disclosure Scotland which '… helps employers make safer decisions when they're recruiting people'. All staff are required to complete information security training at least annually, so that if they do find themselves in contact with sensitive information, they know how to handle it. Many staff have a personal link to or have diabetes themselves. It is, therefore, a core value of our company to keep data as safe as possible.
Here are other things we do to keep your data safe and put you in control. 
All our websites and products have specific privacy notices and policies which explain our approach to data security, transparency around how your data is used, and where it is securely stored. Users are asked to review and opt-in or opt-out of various permissions, in line with personal preferences 
You will have noticed when you first land on the web site that you were asked about Cookies. You need to select those which are required to run the service effectively to be able to use the platform. You can opt in to other Cookies which will enable us to improve our service for the whole population and make the product better – currently you will be reminded every 30 days to give you an opportunity to review and amend your choices if so desired 
We fully comply with GDPR 2018 and the Data Protection Act 2018 – this means you are in control of your data and have rights in relation to use of that personal data such as whether we can contact you and how we can contact you, should you give your explicit consent  
We host your data on encrypted drives on NHS compliant servers which are independently penetration tested at least annually to maintain security and minimise the chance of a cyber-attack being successful 
All data is protected using HTTPS with transport layer encryption between the device and the host, so it is secure in transit between Servers and your device  
As a company, we are ISO 27001* accredited and operate to recognised standards, are Cyber Essentials certified, and have been certified for both the NHS Data Security & Protection Toolkit and have a CE Mark as a Class I Medical Device. 
*ISO27001 requires the organisation to set up an Information Security Management System. This is a whole organisation policy and set of processes which identifies what we need to protect and sets out goals to ensure security is maintained (this applies to physical and online security). We have passed our 2020 annual audit and staff training is regular and ongoing to maintain standards. 
2. IS THE CONTENT OVERSEEN BY CLINICAL AND EDUCATIONAL EXPERTS?
Clinical oversight
The content behind the platform is co-ordinated and supervised by the Chief Medical Officer (Dr Debbie Wake, MBChB, BSc, PhD, Dip Med Ed, MRCPE) who is a practicing NHS consultant in diabetes. Working alongside Debbie is a multi-disciplinary education team which meets fortnightly including an educational expert, two further diabetes consultants, a diabetes specialist nurse and a patient user. Included and consulted on an ad-hoc basis are diabetes specialist dieticians with significant experience supporting multi-ethnic communities.  
3. IS THE PLATFORM CONTENT GOOD QUALITY AND IN LINE WITH CURRENT NHS RECOMMENDATIONS?
Quality assurance built in 
The Chief Medical Officer sits on the Clinical oversight and Education group which routinely consists of an educational expert, a patient representative, a diabetes specialist nurse, a junior doctor plus another diabetes consultant. Ad hoc advisors are used to review/and or deliver content, for example, we have several dieticians who specialise in diabetes and assist with cultural adaptations to content.  
The group meets fortnightly and the remit is a combination of writing new content, updating existing content, reviewing all external links for quality and continued relevance.  
The education lead also submits the structured learning courses for external accreditation to the Quality Institute for Self-Management Education & Training (QISMET) which is an independent not-for-profit body that supports self-management education providers and commissioners to achieve the highest possible quality service for people living with long-term health conditions.  
Their oversight means our courses are externally validated for quality of content and the accessibility adaptations which are built into our website designs. 
 Our current structured eLearning courses have been accredited by QISMET:
My Type 2 Diabetes

 

Understanding Type 1 Diabetes

 

Growing Up With Type 1

 

Considering an Insulin Pump?

 

My Insulin Pump

 

My Gestational Diabetes

 

Carbohydrate Counting
Type 2 Diabetes Prevention
Freestyle Libre
The whole platform is also independently assessed by ORCHA (the Organisation for the Review of Care and Health Apps) which offers app review and accreditation in health and care. This review covers three broad domains: Data Privacy, Clinical Assurance and User Experience. 
Our current ORCHA review can be found on the ORCHA website and is included in the COVID response section. See https://www.orcha.co.uk   
Behavioural Change model

 
MWDH self-management/ behaviour change tools are underpinned by various well founded theoretical principles,  and are most closely aligned with the health belief model (one of four models described in a NICE paper –  PH6: https://www.nice.org.uk/guidance/ph6/resources/behaviour-change-taylor-et-al-models-review2).  
This health belief model is reflected in the MWDH structured education goal setting tools/ pre and post course questionnaires and pre-clinic questionnaires which support identification of modifiable risk factors, grading of importance, and identification of benefits and barriers to behaviour change. These tools also align with the year of care (https://www.yearofcare.co.uk) personalised care approaches, and are designed to help people with diabetes to prepare for consultations with their care team and take ownership of setting their own health goals and priorities.

 

In addition, the MyWay Diabetes self-management web app provides users with choice in all self-management approaches (e.g. we discuss a number of evidence based dietary approaches for the user to choose), understanding that one-size does not fit all and care should be personalised taking into account preferences of the individual.

 
Clinical Standards

 
The education content and the rules which drive the data presentation are all aligned with NICE Clinical guidelines for treatment of Type 1 and Type 2 diabetes, as is the educational content for Gestational diabetes and Diabetes Prevention. All content is in alignment with UK government standards on healthy living, Chief Medical Officer recommendations on exercise and alcohol consumption and/ or nationally agreed standards, targets and recommendations by the National Institute for Clinical Excellence (NICE), the World Health Organisation (WHO) or the Scottish Intercollegiate Guidelines Network (SIGN) in Scotland. 
If you would like to look at NICE guidelines for diabetes yourself, NICE pathways are a good starting point and very accessible:
https://pathways.nice.org.uk/pathways/diabete
4. ARE ANY POSSIBLE RISKS TO USERS IDENTIFIED AND MANAGED APPROPRIATELY?
MWDH maintains a clinical risk register which is aligned with the NHS standard DCB0129 (Clinical Risk Management: its Application in the Manufacture of Health IT Systems). This is under the guidance of the Chief Medical Officer and is routinely reviewed by the Clinical Oversight and Education group. The register is not published but is made available to clinical staff in the NHS on request. This level of transparency and oversight is appropriate to ensure that MWDH are operating to the correct standard and to protect system users from exposure to unnecessary levels of risk.
5. WHAT IS THE EVIDENCE BASE?
Does it work?
The My Diabetes My Way platform has been tested through various research studies to make sure that it is safe, effective, helpful for users and delivers benefits. It has been shown to improve health outcomes and save health services money; this is through reductions in clinic visits and a reduction in major complications of diabetes, which cost a lot to treat.
As well as the formal research described below, patient use cases and anecdotal feedback tell us that users make significant changes to their diabetes management because of the data presentation, and education courses; leading to increased understanding and motivation to act.   
Examples include:
A Type 2 patient who observed that as their weight increased over time so did their HbA1c, resulting in goal setting and planning around weight loss

 

A Type 1 patient who tried to improve lipid levels using diet and exercise and only accepted clinical advice to use statins as a result of the Cholesterol graphs staying 'in the red' over time

 

A Type 2 diabetes user of the online structured education found out about the concept of diabetes remission, and went on to lose 1 stone 9 lbs in weight and come off all diabetes medication.

 
Comments left by users of the structured eLearning course include: 
"Some really useful info and scenarios. Personal recommendations from people with type 1 diabetes and their experiences was great, as well as link to other resources."

 

"The videos and cases of people with type 1 diabetes sharing their own experience are powerful and insightful."

 

"This is fantastic! My 10 year old daughter is newly diagnosed and this course helped me so much with a few things that I'm still a bit uncertain of. A huge thank you J"

 
As a new or returning user to the site we encourage you to think about how it can work for you.  
As a person with diabetes and user of the service you may find this summary of the research interesting. This is also highly relevant for health care professionals.  
a) Patient Reported Outcomes/ User Satisfaction
Summary findings from an evaluation survey in 2015 where 1,095 of 3,797 MDMW users responded demonstrates that:  
90% feel it helps them make better use of their consultation

 

88 % feel it helps them manage their diabetes better

 

90% feel it improves their diabetes knowledge

 

89% feel it improves their motivation

 

87% feel it reminds them of things discussed in the consultation

 
The demographics and socioeconomic status of the respondents was in line with the general user base of My Diabetes My Way.   
Reference:
Conway NT, Allardice B, Wake DJ, Cunningham SG (2018) My Diabetes My Way: User Experiences of an Electronic Personal Health Record for Diabetes Journal of Diabetes Science and Technology
The following sections show how use of MDMW can help reduce the number of appointments you usually need to be cared for by your diabetes healthcare team, and how even modest improvements in key measures can help protect users from the longer term consequences which can be associated with diabetes and hence to live a healthier life for longer. This also translates into resource and cost savings for the health service, so there are benefits all round.
b) Health Outcomes
Observational data (from users up to end September 2015 with complete data) suggest modest improvements in key clinical outcomes clinical parameters including HbA1c (n = 2,611), weight (n = 2,297), diastolic BP (n = 2,552), and cholesterol (n = 2026) (all P < .01) 1 year after first login for the MDMW platform.
Reference:
Wake D.J, He J, Czesak A.M., Mughal F, Cunningham, S.G. (2016) My Diabetes My Way: An Evolving National Data Driven Diabetes Self-Management Platform. Journal of Diabetes Science and Technology Aug 22;10(5):1050-8
The developers also conducted a case control cohort study of long-term users versus those in the inactive background diabetes population, using the UK Prospective Diabetes Study (UKPDS) outcomes model. This involved 7,689 active users with three or more years of follow-up data. The study showed the following outcomes:
HbA1c. The cohort showed an improvement of 4 mmol/mol over 3 years for Type 2 diabetes patients not using insulin.
Hypertension. The cohort showed an improvement of -0.56 mmHg (p=0.007) in diastolic blood pressure over 3 years.
Weight. Users of MDMW showed an improvement of 0.12 BMI (p=0.02) and a reduction in weight of 0.45kg (p=0.003) over 3 years.
Lipids. The cohort showed an improvement in total cholesterol of 0.6 mmol/l (p=0.002) over 3 years.
For NHS England the estimated return over 10 years using a relatively conservative approach is £84m.
Reference: An independent Economic Impact Evaluation Case Study by York Health Economic Consortium, funded by the NHS Innovation Accelerator. The paper is not published and can be found here
c) Short Term Cost Savings
A European funded study using My Diabetes My Way in conjunction with home glucose monitoring upload (through Diasend) was analysed as part of the United4Health Telehealth study as the Model for Diabetes in Scotland. This demonstrated significant cost savings in Scotland of €230 for €33 invested in savings by supporting better personal outcomes and experiences for citizens through supported self-management and online records access. Savings were derived predominantly from reduced Acute admissions as well as through fewer Primary, Outpatient and Emergency Department contacts.
d) Medium to Longer Term Cost Savings (Health Economics)
Improvements in blood glucose (HbA1c) were modelled to show the likely impact on future events (like heart attacks and strokes) in those with Type 2 diabetes not on insulin. The modelling used the United Kingdom Prospective Diabetes Study (UKPDS) outcomes model which is recognised as a gold standard internationally. The modest costs of the service were more than offset by costs of events avoided over 10 years. The economic study showed both better effect and lower costs and is therefore dominant when compared to usual care alone. From a service investment perspective, the health service will get back about £5 for every £1 spent.
Reference: Cunningham, Scott; Stoddart, Andrew; Wild, Sarah; Conway, Nicholas; Gray, Alastair; Wake, Deborah (2021) Cost-utility of an online education platform and diabetes personal health record: analysis over ten years" accepted for Journal of Diabetes Science and Technology.  https://preprints.jmir.org/preprint/29973
Cunningham S, Stoddart A, Wild SH, Conway NJ, Gray A, Wake DJ (2022) Cost-utility of an online education platform and diabetes personal health record: analysis over ten years: https://journals.sagepub.com/doi/pdf/10.1177/19322968211069172 . An independent Economic Impact Evaluation Case Study by York Health Economic Consortium, funded by the NHS Innovation Accelerator can be found here.
e) Education Feedback
In addition, we have published results and user feedback from our massive online open courses for patients and carers. These demonstrate excellent feedback/ satisfaction, and self- reported improvements in knowledge and diabetes management.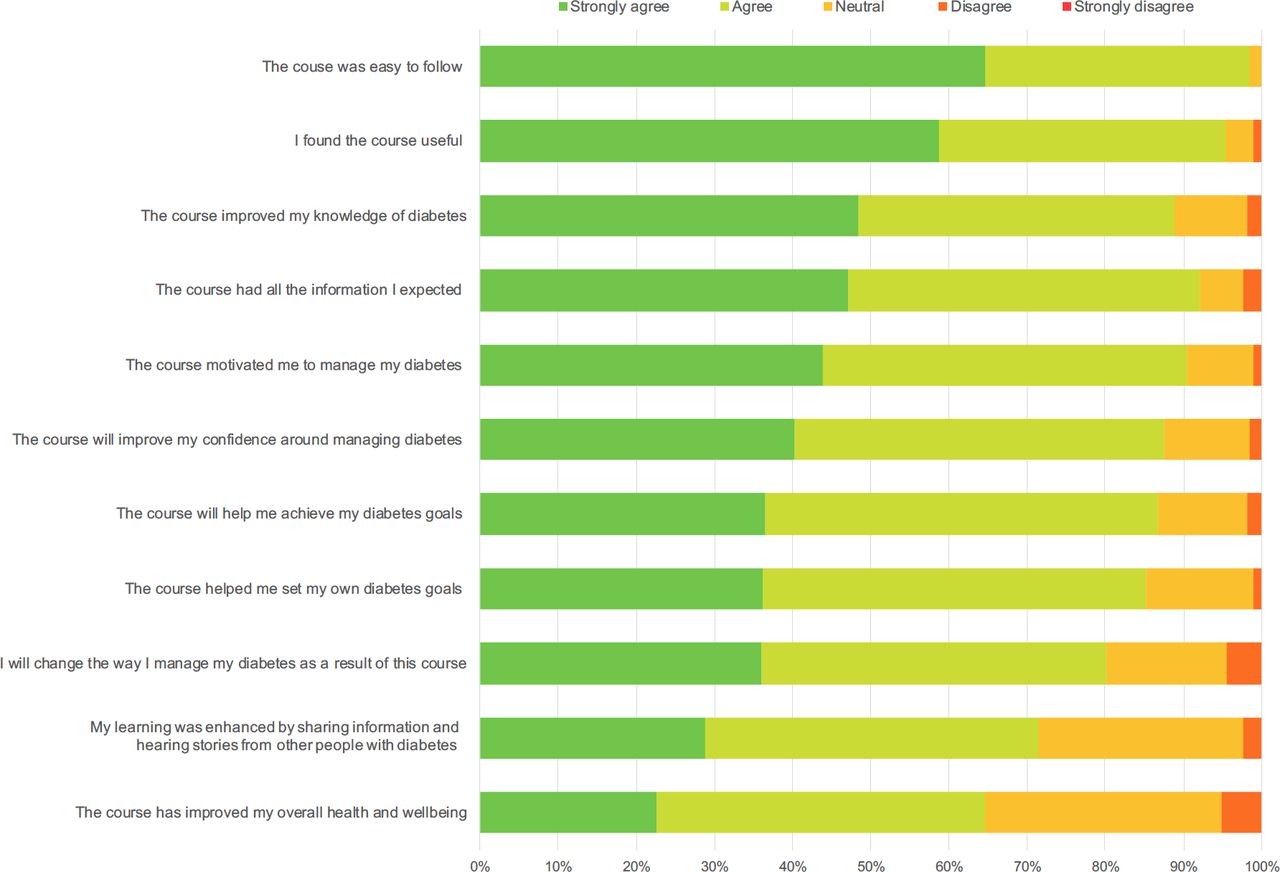 Reference:
Mackenzie S, Cumming K, Garrell D, Brodie D, Wilson L, Mehar S, Bickerton A, Cunningham SG, Wake DJ (2020) Massive open online course for type 2 diabetes self- management: adapting education in the COVID-19 era. BMJ-Innovations: https://innovations.bmj.com/content/early/2020/11/16/bmjinnov-2020-000526
RESEARCH STANDARDS
In the UK, the evidence standards for IT systems are set by the National Institute for Clinical Excellence (NICE). As our systems "support people in self-management of a specific condition", the research should align to Evidence Tier 3a. Our research approach complies with these requirements, with observational data showing statistically significant improvements in key parameters as described above.
HOW ARE WE REGULATED?
Because our software system contains data dashboards which use simple computer-rules comparing the data (information) in the clinical record to recommended levels in clinical guidelines , it is considered a medical device and falls under the Medical Device Regulations, which represent the Medical Device Directive, operating in the UK, after 1st January 2021. This product is registered as a Class 1 CE Mark, which is the level required for this simple data display approach. Our processes align with all Medical Health Regulatory Authorities requirements, the UK's independent regulator. In addition, we comply with NHS Digital software standards and the Data Security & Protection Toolkit.
We have, in development, some additional functions which include elements of risk measurement and prediction. We have a research programme in place to test this new functionality and to support a submission for Class IIb medical device status which will be implemented before wider roll out.