MyWay Diabetes has a strong evidence base. Short evidence summaries of key studies are provided here, along with a full list of references.
Before you read on, you may like to watch the following video showing what patients and clinical experts who have experience with the system in Somerset have said about how they all benefit.
Does it work?
The MyWay Diabetes platform has been tested through various research studies to make sure that it is safe, effective, helpful for users and delivers benefits. It has been shown to improve health outcomes and save health services money; this is through reductions in clinic visits and a reduction in major complications of diabetes, which cost a lot to treat.  
a) Patient Reported Outcomes/ User Satisfaction
Summary findings from an evaluation survey in 2015 where 1,095 of 3,797 MDMW users responded demonstrates that:  
90% feel it helps them make better use of their consultation

 

88 % feel it helps them manage their diabetes better

 

90% feel it improves their diabetes knowledge

 

89% feel it improves their motivation

 

87% feel it reminds them of things discussed in the consultation

 
The demographics and socioeconomic status of the respondents was in line with the general user base of My Diabetes My Way.   
Reference:
Conway NT, Allardice B, Wake DJ, Cunningham SG (2018) My Diabetes My Way: User Experiences of an Electronic Personal Health Record for Diabetes Journal of Diabetes Science and Technology
The following sections show how use of MyWay Diabetes can reduce the number of healthcare appointments and emergency visits for people with diabetes, and reduce the risk long term risk of complications of diabetes like heart attacks and foot ulcers. Even modest improvements in key measures can make a difference and help people live a healthier life for longer. MyWay Diabetes can also lead to cost savings for the health service, so there are benefits all round.
b) Health Outcomes
Observational data (from users up to end September 2015 with complete data) suggest modest improvements in key clinical outcomes clinical parameters including HbA1c (n = 2,611), weight (n = 2,297), diastolic BP (n = 2,552), and cholesterol (n = 2026) (all P < .01) 1 year after first login for the MDMW platform.
Reference:
Wake D.J, He J, Czesak A.M., Mughal F, Cunningham, S.G. (2016) My Diabetes My Way: An Evolving National Data Driven Diabetes Self-Management Platform. Journal of Diabetes Science and Technology Aug 22;10(5):1050-8
A case control cohort study was conducted of long-term users versus those in the inactive background diabetes population, using the UK Prospective Diabetes Study (UKPDS) outcomes model. This involved 7,689 active users with three or more years of follow-up data. The study showed the following outcomes:
HbA1c, Hypertension, Weight, Lipids. The cohort showed a significant improbement in all 3 outcomes over 3 years.
For NHS England the estimated return over 10 years using a relatively conservative approach is £84m.
Caveats: These outcomes were based on a legacy system which has since seem significant ongoing change in tools and functionality. We expect impact to now be significantly greater. The outcomes also track whole user population change across a diverse population (not just users currently engaged in behaviour change activities), thus the impact presented is diluted. Metabolic change will be significantly higher for key activated groups therein.
Reference: An independent Economic Impact Evaluation Case Study by York Health Economic Consortium, funded by the NHS Innovation Accelerator. The paper is not published and can be found here
c) Short Term Cost Savings
A European funded study using My Diabetes My Way in conjunction with home glucose monitoring upload (through Diasend) was analysed as part of the United4Health Telehealth study as the Model for Diabetes in Scotland. This demonstrated significant cost savings in Scotland of €230 for €33 invested in savings by supporting better personal outcomes and experiences for citizens through supported self-management and online records access. Savings were derived predominantly from reduced Acute admissions as well as through fewer Primary, Outpatient and Emergency Department contacts.

Reference: The National Service Model for Home and Mobile Health Monitoring (HMHM) report (see full report here)
d) Medium to Longer Term Cost Savings (Health Economics)
Improvements in blood glucose (HbA1c) were modelled to show the likely impact on future events (like heart attacks and strokes) in those with Type 2 diabetes not on insulin. The modelling used the United Kingdom Prospective Diabetes Study (UKPDS) outcomes model which is recognised as a gold standard internationally. The modest costs of the service were more than offset by costs of events avoided over 10 years. The economic study showed both better effect and lower costs and is therefore dominant when compared to usual care alone. From a service investment perspective, the health service will get back about £5 for every £1 spent.
References:


Cunningham, Scott; Stoddart, Andrew; Wild, Sarah; Conway, Nicholas; Gray, Alastair; Wake, Deborah

(2021)

Cost-utility of an online education platform and diabetes personal health record: analysis over ten years" accepted for Journal of Diabetes Science and Technology.


https://journals.sagepub.com/doi/10.1177/19322968211069172





Cunningham S, Stoddart A, Wild SH, Conway NJ, Gray A, Wake DJ (2020) Cost-utility of an online education platform and diabetes personal health record: analysis over ten years. IDF Conference Korea 2019 available at 

https://www.morressier.com/article/costeffectiveness-online-education-platform-diabetes-personal-health-record-analysis-10-years/5d9b622cea541d6ca8493be3

 . 
An independent Economic Impact Evaluation Case Study by York Health Economic Consortium, funded by the NHS Innovation Accelerator can be found 

here

.
e) Education Feedback
In addition, we have published results and user feedback from our massive online open courses for patients and carers. These demonstrate excellent feedback/ satisfaction, and self- reported improvements in knowledge and diabetes management.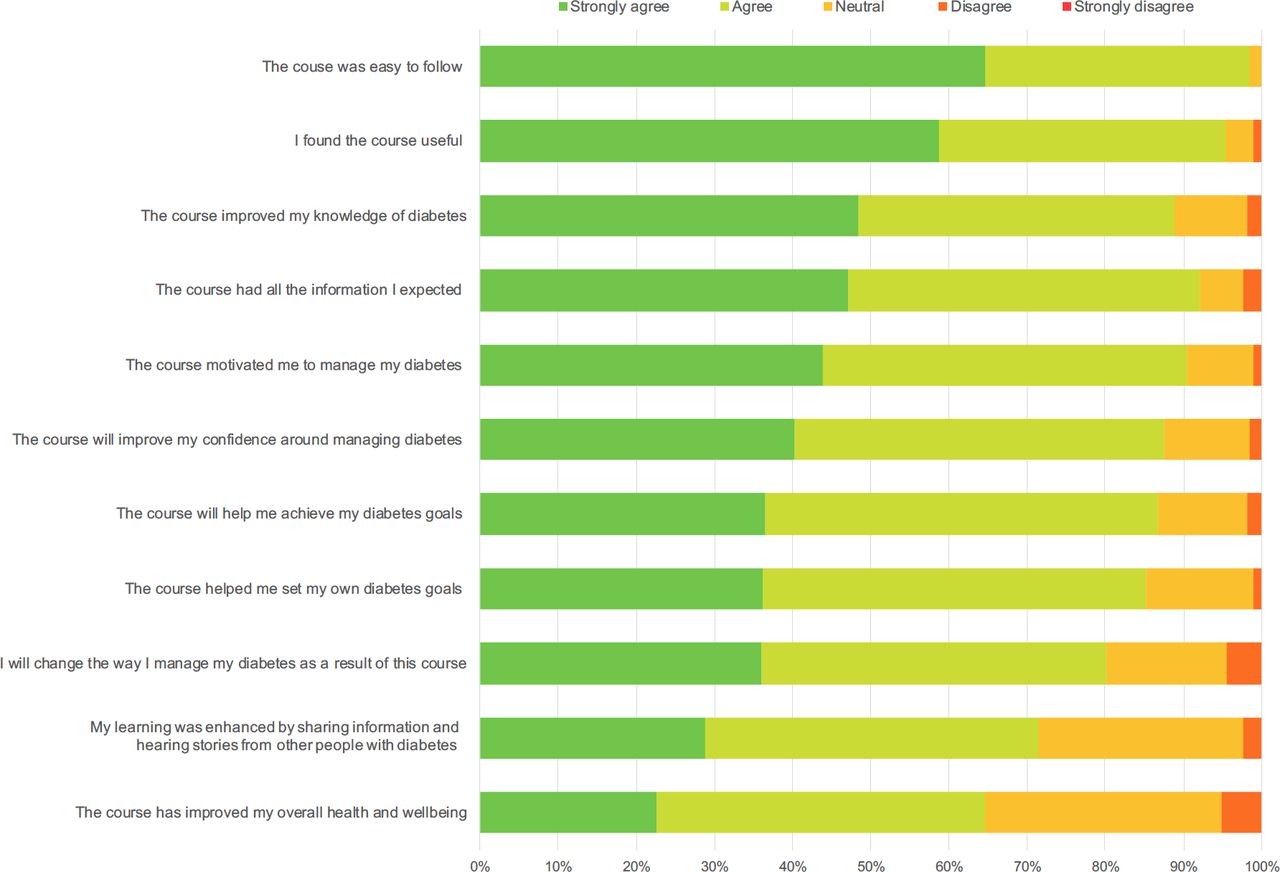 Reference:
Mackenzie S, Cumming K, Garrell D, Brodie D, Wilson L, Mehar S, Bickerton A, Cunningham SG, Wake DJ (2020) Massive open online course for type 2 diabetes self- management: adapting education in the COVID-19 era. BMJ-Innovations: https://innovations.bmj.com/content/early/2020/11/16/bmjinnov-2020-000526
Research Standards
In the UK, the evidence standards for IT systems are set by the National Institute for Clinical Excellence (NICE). As our systems "support people in self-management of a specific condition", the research should align to Evidence Tier 3a. Our research approach complies with these requirements, with observational data showing statistically significant improvements in key parameters as described above.
Anecdotal Evidence
As well as the formal research described below, patient use cases and anecdotal feedback tell us that users make significant changes to their diabetes management because of the data presentation, and education courses; leading to increased understanding and motivation to act.
Examples include:
A Type 2 patient who observed that as their weight increased over time so did their HbA1c, resulting in goal setting and planning around weight loss
A Type 1 patient who tried to improve lipid levels using diet and exercise and only accepted clinical advice to use statins as a result of the Cholesterol graphs staying 'in the red' over time
A Type 2 diabetes user of the online structured education found out about the concept of diabetes remission, and went on to lose 1 stone 9 lbs in weight and come off all diabetes medication.
Comments left by users of the structured eLearning course include:
"Some really useful info and scenarios. Personal recommendations from people with type 1 diabetes and their experiences was great, as well as link to other resources."
"The videos and cases of people with type 1 diabetes sharing their own experience are powerful and insightful."
"This is fantastic! My 10 year old daughter is newly diagnosed and this course helped me so much with a few things that I'm still a bit uncertain of. A huge thank you J"
As a new or returning user to the site we encourage you to think about how it can work for you.
As a person with diabetes and user of the service you may find this summary of the research interesting. This is also highly relevant for health care professionals.