MyWay Digital Health are delighted to be delivering a live Q&A session via ZOOM on Tuesday 18th July at 6pm. This live Q&A session comes in conjunction with the company's brand new 'Type 1 Diabetes and Exercise' course which is launching across all MyWay Digital Health's platforms.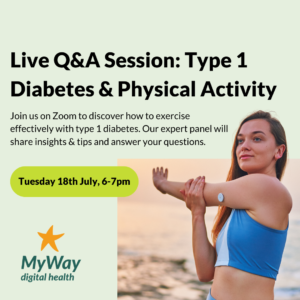 Join us on ZOOM to find out more about how to exercise effectively with type 1 diabetes.
Our expert panel will share insights & tips and answer your questions.
 Learn how to manage blood glucose, insulin and optimise performance!
 When? Tuesday 18th July from 6-7pm
Please click the link below before 6pm on Tuesday 18th July to join the waiting room. As soon as the meeting starts, the host will let you enter the call
Link to join: https://shorturl.at/sBI09
Meeting ID: 819 9713 3756
Please note: If you have not already used ZOOM, you may need to download this prior to the Q&A Session depending on your device. You can find out more at ZOOM Support Page
Any problems? Please contact support@mwdh.co.uk for further support.
We hope to see you there 
Join our Facebook event page to receive a reminder of the Q&A session: Facebook Event: Live Q&A
You can find your regional platform by selecting your region on the 'Patient' section of the website.