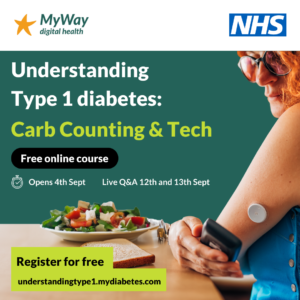 MyWay Digital Health in conjunction with NHS England, are delighted to offer a BRAND NEW online course covering all you need to know about carb counting and type 1 technology!
🗓 When?
Course opens on Monday 4th September. Complete the course in your own time before it closes on Monday 18th September.
Questions?
Join the live Q&A sessions on ZOOM where you can find out more from a team of diabetes experts:
⏰Tuesday 12th September @ 6pm
⏰Wednesday 13th September @6pm
Links included in the course materials!
Open to people living with type 1, family, friends, carers and healthcare professionals, as well as anyone with a keen interest to learn more about type 1 diabetes.
Enrol today at understandingtype1.mydiabetes.com