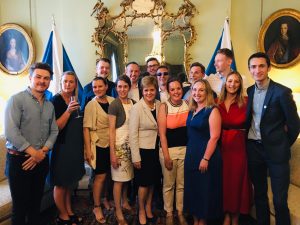 It's been a busy week for our CEO and Chief Medical Officer, Dr Debbie Wake, who met with Prime Minister Theresa May at 10 Downing Street, followed by a reception with First Minister of Scotland, Nicola Sturgeon a couple of days later!
Dr Wake was invited to meet the Prime Minister in recognition of her work with diabetes. Theresa May spoke about her own personal journey with type 1 diabetes which can be challenging enoughto manage on its own, never mind trying to run the country.
A couple of days later, Dr Wake attended a reception with the First Minister of Scotland, Nicola Sturgeon as part of her Unlocking Ambition fellowship. The prestigious Unlocking Ambition Challenge is a £4 million flagship entrepreneurial development fund created by the Scottish Government, initiated by the First Minister for Scotland, that supports highly ambitious entrepreneurs from across Scotland, chosen for their individual potential, the quality of their ideas and the contribution they can make to the Scottish economy and wider society.