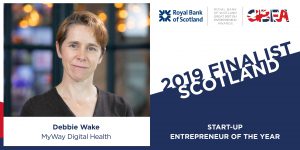 The finalists for the 2019 Royal Bank of Scotland Great British Entrepreneur Awards have been announced and we're delighted that our CEO and Clinical Lead, Dr Debbie Wake, is a finalist in the Start-Up Entrepreneur of the Year category.
Having visited Edinburgh in 2017 and 2018, this year the awards head to Glasgow for the regional final. The Great British Entrepreneur Awards celebrate the incredible stories that have taken entrepreneurs to where they are today, regardless of size or turnover.
Last year saw social entrepreneur Alan Mahon walk away as Great British Entrepreneur of the Year for Scotland & Northern Ireland for his story as the founder of Brewgooder, the craft beer company that uses its profits to fund clean water projects in Africa.
The awards will take place in Glasgow on the 1st of October. The best of British to you Debbie!