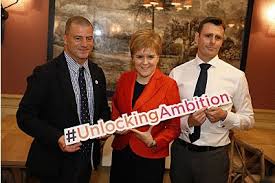 The Unlocking Ambition programme which our CEO and Chief Medical Officer Debbie Wake has been a part of, has now launched Unlock Young Ambition, which will give students aged 16 – 30 years their chance to unlock their potential by developing their entreprenurial skills.
Bridge 2 Business has teamed up with the First Minister's Unlocking Ambition Challenge Programme, delivered in conjunction with Scottish Enterprise and Scotland CANDO, to create this exciting new programme for young people in Scotland to create the next generation of budding entrepreneurs.
The students involved in Unlock Young Ambition will be personally mentored by one of the members of the original Unlocking Ambition cohort, learn more about how to create and run a business and how Scotland supports it's inspiring entrepreneurs.