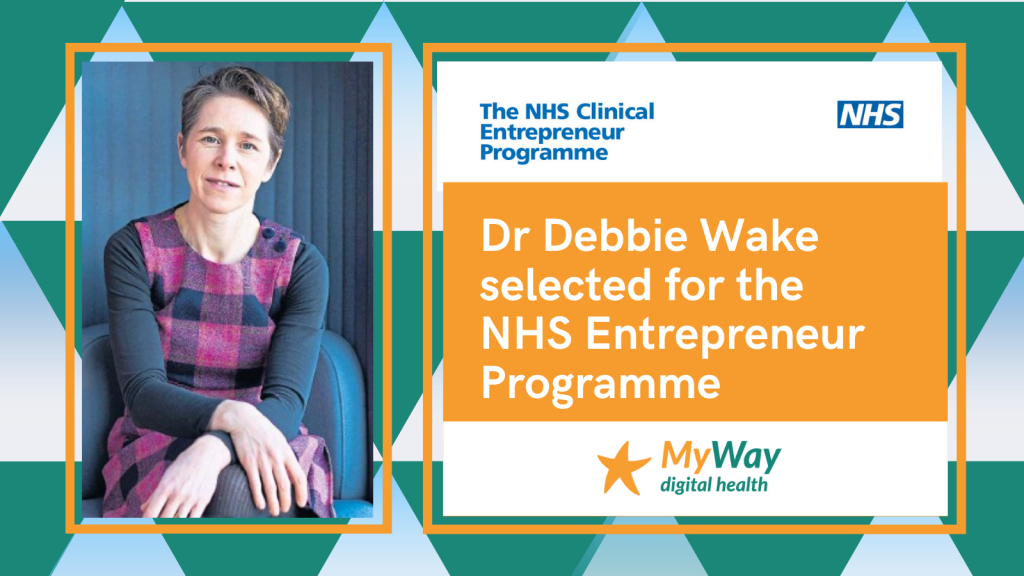 Dr Debbie Wake, Founder and CEO of MyWay Digital Health, has been selected for the Clinical Entrepreneur training programme.  
The Clinical Entrepreneur training programme is a workforce development project for clinical and non-clinical NHS staff, run by NHS England and NHS Improvement's Innovation, Research and Life Sciences group. The programme selected from a diverse range of clinical and non-clinical healthcare professionals with an interest in entrepreneurship and innovation.  
It is the biggest entrepreneurial workforce development programme of its kind, aiming to provide the commercial skills, knowledge and experience needed to successfully develop and spread innovative solutions to the challenges facing the NHS for the benefit of patients, staff and the wider NHS. More than 500 individuals including doctors, dentists, healthcare scientists, nurses and midwives, allied health professionals and pharmacists have joined the programme since it launched in 2016. 
It offers expert mentoring, exclusive networking, and bespoke training to develop innovative ideas into products and businesses to benefit NHS patients. The curriculum covers all aspects of setting up and running a small business, including attracting investors, applying for funding, and ensuring appropriate corporate governance.  
Training on how to build a start-up, and how to operate in this highly charged environment, is delivered as a series of educational events attended by industry mentors. This allows entrepreneurs to pursue their innovation without having to leave the health service, providing a wider benefit to economic growth through inward investment in the health, social care and life science sectors.